Adult Learning
The Community Adult Literacy Program aims to increase literacy in the Lillooet community by providing 1 on 1 tutoring and related learning services.
Do you need a little help to make your life easier?
We offer free and private support with:
Reading
Writing
Filling out forms
English as an additional language
Computers / devices
Current Drop-In Hours
Tech Tuesdays:   2PM to 4PM
Thursdays:          1:30PM to 3:30PM
Questions?
Call or Text: 250-256-3161
Email: calp@lillooet.bclibrary.ca
Visit: Room 203 at 930 Main Street, Lillooet, BC.
Technology Tuesday
This program provides free teaching services to community members who want to learn more about digital tools, computers, devices etc. Various staff members are available on Tuesday afternoon if you have questions about technology.
View the Technology Tuesday page for updated information.
A Video on Adult Learning in Libraries:
Literacy Tools & Links
Scroll down and explore links to help with learning and literacy.
ABC Literacy Life
This website has links to Literacy programs across Canada as well as excellent articles about Literacy. The website is written in clear words and is easy to navigate. If you would like a better understanding of what literacy is, this is a good place to find some information.
"Having adequate literacy skills means being able to understand, evaluate, use and engage with written texts. It also means being able to participate in society, achieve your goals, and develop your knowledge and potential. Research shows that adults who have [lower] literacy skills are more likely to have poorer overall health, lower salaries, and lower levels of participation in their community."    – ABC Life Literacy
---
Decoda Literacy Solutions
Decoda is the province wide charitable organization that provides funding for the Lillooet area Adult Literacy Program through the Lillooet Library. Their website is aimed at literacy professionals, donors and potential donors.
Click here to visit the Decoda website.
"We support community-based literacy programs and initiatives in over 400 communities across BC by providing resources, training and funds. Our work supports children and families, youth, adults, Indigenous and immigrant communities to help build strong individuals, strong families and strong communities."  – Decoda Literacy Solutions
---
Audio Assisted Reading
Refers to stories being read out loud while the listener follows along reading the story from written text. It's a wonderful way to hear a good story while improving your reading abilities. While these readings can be used in person, they are also a great tool for online learning. These websites do not work well on smartphones or tablets. A laptop computer or desk top computer are the best way to use these helpful tools.
Research has shown that audio-assisted reading is a great tool to enhance and supplement other comprehension and reading strategies. Listening to stories being read out loud is fun and relaxing. To learn more and use examples of recorded readings use the links below.
ESL Bits
ESL Bits is a website that includes recordings and written text of books, novellas and articles. The audio recordings and text cannot be
downloaded. The audio recordings have speed control so you can choose the speed the story is read to you. This is great help for people who are learning spoken and written English.
Lit2Go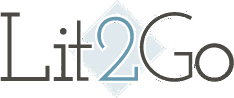 Lit2Go is a free online collection of stories and poems in Mp3 (audiobook) format. An abstract, citation, playing time, and word count are given for each of the passages. Each reading passage can also be downloaded as a PDF and printed for use as a read-along or as supplemental reading material. The recordings of the stories are by chapter or section so you cannot listen to the whole story without interruption.